I've always admired calligraphy. It's so elegant and pretty. It's also rather intimidating to get into, since you need special pens, good handwriting, and lots of practice. One thing I've experimented with is faux calligraphy, which can be done with a normal pen or pencil; today, I moved onto the next step up: brush pen lettering.
I bought Tombow Dual-Tip Brush Pens, mostly because Tombow is an ultra-popular brand, and their brush pens are often recommended for beginners. The pens are basically water-based markers with a flexible brush-like tip on one end, and a normal tip for drawing on the other. Writing with the brush tip allows a very calligraphic style, with thick and thin lines, and is – I've heard- somewhat easier than normal calligraphy. Brush pen calligraphy is very pretty in its own right! (The markers also felt like less of a commitment than calligraphy pen and ink, because hey, markers! I'll use those either way.)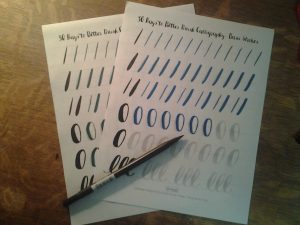 Step one: acquire brush pen markers.
Step two: download free worksheets.
Step three: practice.
Step four: practice.
Step five: practice.
Step six: calligraphy?