Latin – I have Wheelock, Familia Romana, and Henle. Specific goals: catch up with my brothers in Henle, review Wheelock through chap. 20, and get 100% comfortable with Familia Romana up through chap. 20.
WFR – WILDCARE. Backcountry medical course. SG: read the entire book and extract + memorize key lists.
Rocky Mountain SFLA Summer Academy. SG: attend the lectures, keep up with extra coursework, engage with the other students.
Chemistry, also not self-directed. SG: keep up with the course.
Crochet. SG: finish Big Project #1 , prep/plan/begin + do 1/2 of Big Project #2.
Poetry. SG: currently have a list of 24 poems to review/memorize, which will undoubtedly grow.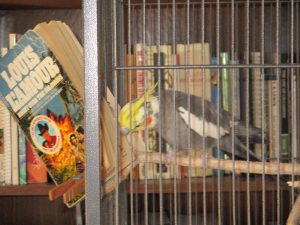 I also want to keep my 'tiels busy and happy, and interact with them enough to get them sitting on my hand!
It's a strange summer so far. I'm very bad at handling unscheduled time, and have 1) too many goals (trust me they're not all up above) 2) not enough focus on ye average day to actually enact them and 3) already allowed my non-existent sleep cycle to diverge into a weird biphasic-thing where I sleep at some point early morning (AKA after midnight) and then again in the afternoon. Since when can I sleep during the day? Since I got home this summer, apparently.
I have not read enough unnecessary fantastical books or done enough unscheduled writing! Nor enough wandering in the summer dusk or lying in the grass watching the sky. I have, however, done a lot of thinking, and will certainly do more. About, you say? All sorts of things. Fate. Sin. Bonds. Sky. Worth. Purpose. Perhaps something brought out by the heat is conducive to such meanderings.
Drowning in a sea of dandelions,
chamomile tea and scalding scions.
Floundering in the depths of starry sky,
wondering if the stars know what it means to die.
____________________________________________
6/17/19 updates
Latin – revisited the plan to use 3 different programs and crossed Henle off the list – Wheelock will be more useful in the long haul. 5 chapters done.
WFR – Finally realized that the easiest way to do this will be using Anki, as I do with Latin. Broke it down into number of pages-per-day (7) to finish by the end of the summer.
Summer Academy – attended the first lecture.

Chemistry: cancelled.

Crochet – #1 is done, #2 planned/prepped/begun and about 20% done.
Poetry – 5 poems learned since then.
New stuff:
Ukulele – one goal that was too vague for the first list was "practice more ukulele". Accomplished! Upgraded to goal status: daily work.
Writing – another too-vague goal was "get back into writing/write more". This did not happen. Still working on it.
Hiking – vaguely, "more hiking". Got out for one hike, an early morning 3-mile roundtrip to watch the sunrise. There are plans for more – if it settles into a semi-regular schedule, this will be upgraded to goal status.
TKD – 's going to be a long haul reviewing everything I need to know. One-steps A / One-steps B / Breaking-holds A / Breaking-holds B / Two-man grabs / Forms / Staff forms / Staff one-steps / Knife attack