The thing about surprise crochet for a family member is that it means a lot of time holed up alone in my room. And more than a few awkward moments when a helpful parent pokes their head in and I, with guilty haste, hide what I'm holding, in my lap or behind my back. Over the two weeks and who-knows-how-many-hours it took me to put this together, I've watched all six seasons of Jeeves and Wooster on Youtube and listened through a thirteen hour audio book. Yikes. (The Amulet of Samarkand has an excellent narrator, by the way.)
But the results? Totally worth it.
Most of the things in the basket, under the flowers, are fun little kitchen patterns I've just been waiting to try out.
[Update: I really wanted to put pairs of pictures side-by-side, to take up less space, but WordPress 100% refuses to display them that way.  Therefore, "left" now refers to top and "right" refers to bottom.]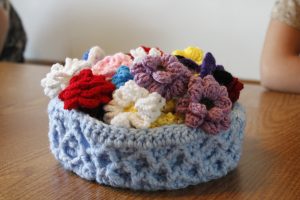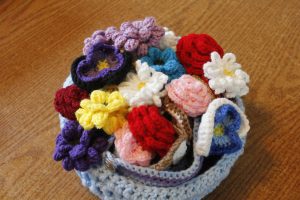 So on the left we've got three different cotton washcloth/rag patterns. Spider stitch (blue and white,  the free pattern), granny square (red and blue,the free pattern) and popcorn/bubbly (yellow and white, the free pattern). My personal favorite ended up being the spiderweb. It's a nice thick texture, very much the same on both sides unlike the popcorn, a little more interesting than single crochet but still straightforward.
On the right, two mug cozies. Isn't that owl so cute? (The free pattern). I didn't use a pattern for the coaster-and-cozy in one, just winged it by making a circle with half double crochet (hdc) stitches to the size of my mug, then stopped increasing and went back and forth with hdc until it was tall enough. Someone gave me the idea, but sadly I couldn't refind the blog post to give credit! While I was searching just now, I did find a free pattern that does much the same thing with single crochet, and another with a fancier frilly edge which I'll have to try myself some day.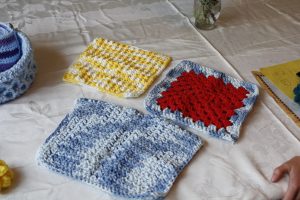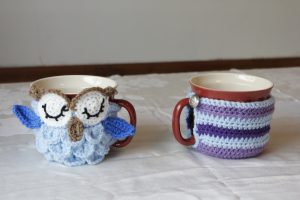 Now, on the left, a number of color variations on the same coaster. It's a coffee or tea cup, if you can't tell. This one's been hanging out on my Pinterest board for a while, just waiting for a chance! They'd look more tidy if I'd bothered to block them out at all, but they'll squish flat soon enough. (Free pattern)
On the right, a whole mess of flowers. There's roses, daisies, dahlias, and two pansies.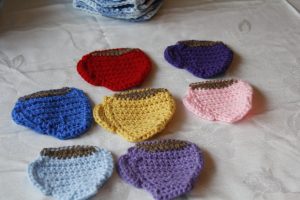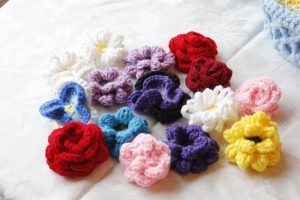 I didn't take many progress pictures, but there's just a few of the flowers. Here's the front and back of a half-sewn dahlia.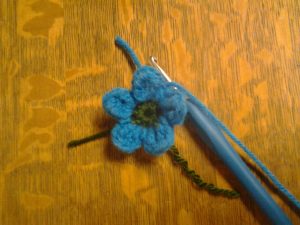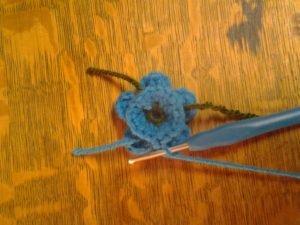 Here's an example of how much difference just a little tweaking makes. Both pictures are the same, finished dahlia; the only difference is that in the second, I've poked all the petals right side out and rearranged them and fluffed everything up.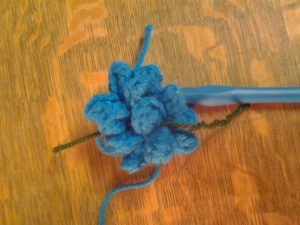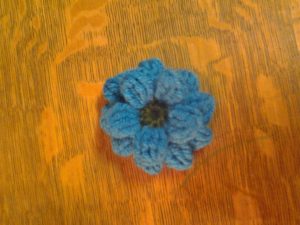 The basket itself was probably hardest. I used this free pattern, but flubbed it a bit, so mine's only half the intended height. But that worked out fine, and it's nice and sturdy as promised.
I have three different long-term crochet projects going right now, so it was really refreshing to whip off some little things I could start and finish in a day. Next time inspiration strikes, I hope it does so a little longer before the deadline – two weeks sounded like plenty of time when I started on May 1st, but my fingers were feeling the consequences by the time I finished!